PIVX (PIVX) Is Now Available for Trading on LBank Exchange
Road Town, British Virgin Islands–(Newsfile Corp. – September 3, 2023) – LBank Exchange, a global digital asset trading platform, listed PIVX (PIVX) on August 30, 2023. For all users of LBank Exchange, the PIVX/USDT trading pair is now officially available for trading.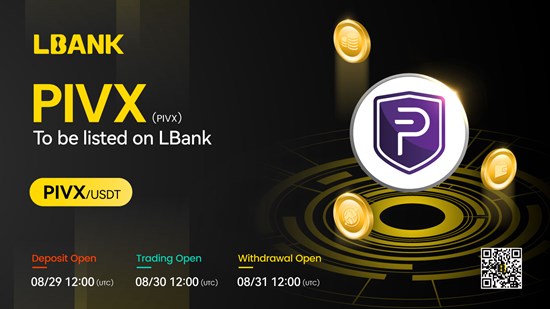 PIVX
To view an enhanced version of this graphic, please visit:
https://images.newsfilecorp.com/files/8831/179345_1463f6cf64a13b6a_001full.jpg
PIVX is the first ever proof of stake cryptocurrency to integrate zk-SNARKs as a privacy protocol called SHIELD. This allows the user the option for complete privacy when it comes to their transactions. PIVX stands for Private Instant Verified Transaction and was launched in 2016 as a pioneering proof-of-stake (PoS) consensus cryptocurrency.
Introducing PIVX
LBank Exchange is thrilled to announce the listing of PIVX (PIVX), an open-source and decentralized peer-to-peer currency featuring advanced user data protection features, community governance mechanisms, Proof of Stake consensus algorithm, and multi-purpose Masternodes.
PIVX aims to bring together the tech-savvy and tech-wary by providing a safe means through which investors and the general public can conduct business.
PIVX is designed to enable a sustainable infrastructure and service capable of supporting scalable, decentralized, and resilient node infrastructure. This will allow for instant and protected transactions globally. 
PIVX stands for Private Instant Verified Transaction, a label that succinctly describes its core proposition. One of the most noteworthy aspects of PIVX is its successful implementation of the zk-SNARKS privacy protocol, a cutting-edge technology that offers users the discretion to make anonymous transactions. PIVX's protocol is selective, enabling users to choose whether to cloak personal transactions or not. This customizability provides a unique blend of transparency and privacy that sets PIVX apart in a crowded market.
As far as real-world applications go, PIVX operates with a sharp focus on three key objectives: governance, utility, and fast transactions. To that end, PIVX features a 60-second block time which expedites the transaction validation process. 
Even more interesting is PIVX's governance model. As a Decentralized Autonomous Organization (DAO), it empowers its community through staking and masternodes, allowing users to have a direct influence over the future trajectory of the asset. This decentralized approach resonates strongly with the original vision of cryptocurrencies, offering a glimpse into how blockchain technology can bring about democratic financial systems.
About PIVX Token
The economic model of PIVX is based on a dynamic coin supply that adjusts in response to economic pressures to target stability. The monetary policy is designed to enable a sustainable infrastructure and service capable of supporting scalable, decentralized, and resilient node infrastructure. The only influencing factors on the coin supply are those based upon transaction volume and fee burning as interpreted by an algorithm.
Based on PIVX Blockchain, The total supply of PIVX is not fixed and there is no hard cap on its coin supply. However, there is a soft cap that limits the number of coins produced when a certain condition is met. The PIVX soft-cap condition is met when fees charged on network actions amount to that minted within a block. The blockchain will then start burning the same amount of coins as it is generating, limiting growth. As of June 2021, the approximate total supply of PIVX is 56,000,000 PIV, and it is estimated to reach 125,929,497 PIV by June 2040 and 189,001,497 PIV by June 2060. It was listed on LBank Exchange at 12:00 UTC on August 30, 2023, investors who are interested in PIVX can easily buy and sell it on LBank Exchange now.
Learn More about PIVX Token:
Official Website: https://pivx.org/
Blockchain Explorer: https://chainz.cryptoid.info/pivx/
Reddit: https://www.reddit.com/r/pivx/
Medium: https://medium.com/pivx
GitHub: https://github.com/PIVX-Project/PIVX/
Telegram: https://t.me/PIVXChat
Facebook: https://www.facebook.com/PIVXCrypto/
Twitter: https://twitter.com/_PIVX/
Discord: https://discord.com/invite/jzqVsJd
About LBank
LBank is one of the top crypto exchanges, established in 2015. It offers specialized financial derivatives, expert asset management services, and safe crypto trading to its users. The platform holds over 9 million users from more than 210 regions across the world. LBank is a cutting-edge growing platform that ensures the integrity of users' funds and aims to contribute to the global adoption of cryptocurrencies.
Start Trading Now: lbank.com
Community & Social Media:
l Telegram
l Twitter
l Facebook
l LinkedIn
l Instagram
l YouTube
Press contact:
[email protected]
Business Contact:
LBK Blockchain Co. Limited
LBank Exchange
[email protected]
[email protected]
To view the source version of this press release, please visit https://www.newsfilecorp.com/release/179345