Kravets Wehby Gallery Proudly Presents 'Alien in Spaces', the First New York Solo Exhibition by Sejiro Avoseh
New York, New York–(Newsfile Corp. – May 20, 2023) – Kravets Wehby Gallery is thrilled to announce that it will be hosting the first New York solo exhibition, "Alien in Spaces", by the critically acclaimed artist, Sejiro Avoseh. This highly anticipated event underscores the gallery's commitment to promoting groundbreaking art that challenges boundaries and sparks dialogue. The exhibition will open with a reception on May 18, 2023, and will continue until June 10, 2023.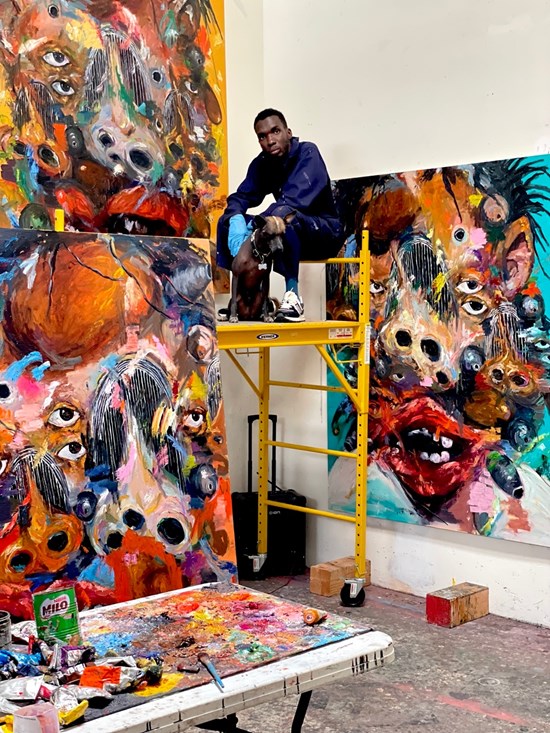 Following his sell-out group show at the gallery earlier this year, Avoseh returns to Kravets Wehby Gallery with a compelling new body of work. His art has consistently found a place in esteemed collections such as The Schorr Collection, The Frank Cohen Collection, and the recently inaugurated Charles Museum. "Alien in Spaces" represents another leap in the artist's continually evolving journey, highlighting his unique ability to navigate complex cultural tensions through his work.
"Alien in Spaces" promises a rich visual experience, showcasing Avoseh's dynamic use of color and inventive manipulation of painted surfaces. Known for his layered oil paintings that pulsate with vitality and chromatic intensity, Avoseh's latest works continue to push the boundaries of visual expression. They reflect his experiences as a citizen of Nigeria navigating spaces that once colonised his home country, offering poignant commentary on these complex historical and personal relationships.
This exhibition underlines Kravets Wehby Gallery's ongoing commitment to championing innovative and thought-provoking art. Following the opening reception, the gallery looks forward to welcoming members of the public to appreciate the remarkable evolution of Avoseh's artistic practice
For more information about the exhibition, visit the gallery's website at https://www.kravetswehbygallery.com. For press inquiries and additional details, contact [email protected] or call +2349085833431.
About Kravets Wehby Gallery
Established as a leading figure in the New York art scene, Kravets Wehby Gallery consistently curates exhibitions that showcase both emerging talents and established artists. With a reputation for promoting groundbreaking, thought-provoking art, the gallery contributes to the ongoing dialogue within the contemporary art world.
Media Contact:
Company: Kravets Wehby Gallery
Contact person: Marc Wehby
Email: [email protected]
Country: USA
Website: kravetswehbygallery.com
To view the source version of this press release, please visit https://www.newsfilecorp.com/release/166810