Income Direct Digitises Interest-Bearing Accounts with Launch of IBA Platform
Melbourne, Australia–(Newsfile Corp. – April 17, 2023) – Income Direct is pleased to announce it has digitised its interest-bearing accounts (IBAs) by launching a 100% online platform for client onboarding and relationship management.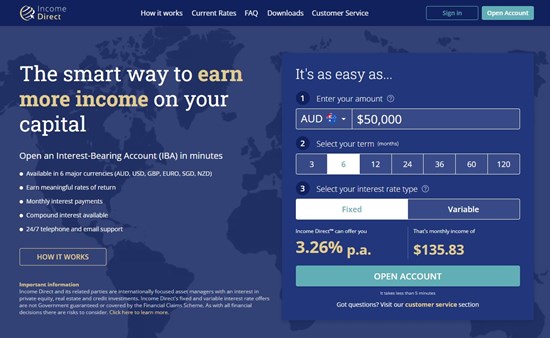 Income Direct Platform
The platform available from Income Direct's website at www.incomedirect.com provides fixed income clients the ability to sign up for IBAs online and create new interest-bearing facilities based on their individual requirements.
Income Direct Chairman Gerard Sivaprasad said, "Income Direct's online platform is an exciting innovation for our clients. It has been in the works for nearly two years and represents a major investment we have made to build a scalable business where our clients can access account information at their fingertips."
The Income Direct IBA platform enables clients the ability to open an account in their personal name and set up interest-bearing facilities in various entity types including individuals, joint names, companies, trusts, superannuation funds and more.
The platform will streamline client relationship management and onboarding, and give clients 24 hour access to view their account details online.
"The private debt space is becoming increasingly popular with investors wanting to keep ahead of inflation. Income Direct's IBA platform has been timed perfectly given the substantial demand we are seeing from clients," said Mr. Sivaprasad.
Whilst Income Direct has digitised its business to streamline customer service and account management, Mr. Sivaprasad says every client will continue to have a dedicated Account Manager. He believes good old fashioned customer service can never be replaced by technology.
Clients can create an account with Income Direct within a few minutes by visiting www.IncomeDirect.com and click 'Open account'. The IBA dashboard provides clients with full visibility of their interest-bearing facilities with Income Direct.
Contact Details:
Gerard Sivaprasad
[email protected]
www.incomedirect.com
To view the source version of this press release, please visit https://www.newsfilecorp.com/release/162655